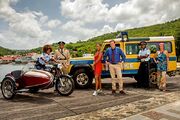 "

The team are back solving mind-bending murders in the glorious sunshine. This year sees the arrival of a new DI, Neville Parker, but Saint Marie isn't exactly his idea of paradise.

"

―BBC
Series 9 of Death in Paradise was commissioned in February 2019 (together with series 10) and first aired from 9 January 2020 to 27 February 2020 on BBC One.
#
Title
Director
Writer
Air Date
1
La Murder Le Diablé
Ian Barber
James Hall
9 January 2020

The locals set out to celebrate the New Year - only for the festivities to be cut short when a masked man stabs a woman in her own home
2
A Murder in Portrait
Ian Barber
Tom Nash
16 January 2020

DI Jack Mooney and the team are called to a workshop where acclaimed artist Donna Harman has been found dead. Suspicion immediately falls on the three people closest to the crime scene, but with no one entering the workshop between the time the victim returned to start on her next painting and being found dead, the scene paints a tricky picture. Only a solitary drink can seems to hold the answer, but matters are complicated when Donna's art dealer and an art collector enter the fray. Meanwhile, Jack is confused by his blossoming feelings for Anna.
3
Tour de Murder
Paulette Randall
Oriane Messina and Fay Rusling
23 January 2020

There is great excitement in Saint Marie when the Tour des Antilles cycling race comes to the island but the event turns sinister when the favourite, Xavier Prince, is found dead halfway around. All evidence initially points to Xavier having crashed on one of the most dangerous sections of the course, but Jack suspects it has more to do with the discovery of a piece of fabric torn from a cycling shirt. However, one of the riders is keeping a sensitive secret.
4
Pirates of the Murder Scene
Paulette Randall
Will Fisher
30 January 2020

Christopher Williams' body is found on a boat out at sea. All evidence points towards a deadly fall, but Jack is bothered by the victim's strange appearance and the fact that his car was abandoned miles out into the woods. Suspicion fall on his wife and friends - but with everyone having an alibi, the police drift further away from the truth. Meanwhile, Jack's daughter Siobhan visits and encourages him to accept Anna's offer of joining her on her travels, leaving the DI with a big decision to make.
5
Switcharoo
Richard Signy
Robert Thorogood
6 February 2020

The celebratory launch of a new luxury resort is cut short when a woman is found electrocuted in her hotel bathtub - with the door locked from the inside. It looks like a simple case of suicide, but with Jack Mooney no longer around to confirm Commissioner Selwyn's suspicions, DI Neville Parker is temporarily flown over from Manchester to close the case. However, he soon realises that island life is not for him, so when evidence of suspicious activity turns up, he is dismayed to realise he will have to extend his stay and investigate the case as murder.
6
Murder on Mosquito Island
Richard Signy
Tom Nash and Kefi Chadwick
13 February 2020

A desert island survival course goes wrong when the leader - a trained survival expert and ex-SAS soldier - is found dead in the forest of a remote island near Saint Marie. Having ventured off into the wilderness alone and with no other people on the island apart from the trip participants, suspicion soon falls upon them. All of the course members provide one another with an alibi.
7
Death in the Salon
Jennie Darnell
James Hall and Victoria Asare-Archer
20 February 2020

The owner of a hair salon is killed in front of her family, leaving DI Neville Parker and his team stumped when it turns out no one actually saw what happened.
8
Now You See Him, Now You Don't
Jennie Darnell
James Hall
27 February 2020

A blind actress is the only witness to her husband's murder, but it remains to be seen whether she can really be trusted.
Discussion
To improve this article, discuss it on the Talk page.
Notes
Community content is available under
CC-BY-SA
unless otherwise noted.