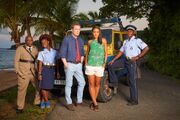 "

Filmed on the French-Caribbean island of Guadeloupe, the eighth series of the award-winning drama will continue to keep audiences guessing with intriguing mysteries, cunning plot twists and a star-studded array of guest cast.

"

―BBC
Series 8 of Death in Paradise was commissioned in February 2018 and first aired from 10 January 2019 to 28 February 2019 on BBC One.
#
Title
Director
Writer
Air Date
1
Murder on the Honoré Express
Stewart Svaasand
Paul Logue
10 January 2019

Four passengers board the bus to Honoré, only for one of them to be killed by a knife to the chest. Yet when everyone else claims to have remained in their seats and seen nothing, Jack and his team are baffled by the mystery. Meanwhile, Florence is being unusually secretive until she confesses that she has a new boyfriend.
2
Murder Most Animal
Stewart Svaasand
Justin Young
17 January 2019

Zoo owner Xander Shepherd is killed by a tranquilliser dart in the middle of the grounds. With the park shut to the public at the time, suspicion falls on the victim's colleagues, but hey were all in the staff area when the shot was fired. Meanwhile, Dwayne's replacement, Officer Ruby Patterson, arrives, and Jack faces a mammoth task when he is signed up to the island's charity swim race.
3
Wish You Weren't Here
Sarah O'Gorman
James Hall
24 January 2019

The presenter of TV holiday series Hot Shots takes a midnight swim, only for her body to be washed up on the shore. Initial evidence points towards accidental drowning, but Jack is troubled by marks on the victim's neck - and as he questions her colleagues, a secret affair, unrequited love and rocky working relationships convince Jack that this was no accident. With Florence away on a romantic weekend, JP steps up to help Jack with the case, and with the tourist board up in arms about the crime, Commissioner Selwyn Patterson keeps a close eye on the investigation.
4
Frappe Death Day
Sarah O'Gorman
Tom Nash
31 January 2019

Benedict Dacre rules the roost at his coffee plantation, although all is not plain sailing. Soon after he breaks the news that he is selling up and it is time for his family to move on, he is shot dead. As DI Mooney and the team investigate, they soon have reason to suspect all the victim's relatives. Meanwhile, Ruby confesses to JP she was once arrested and the Commissioner is concerned about illegal crab racing.
5
Beyond the Shining Sea - Part One
Jermain Julien
Sally Abbott
7 February 2019

A fishing community is excited about the arrival of their festival queen for an annual celebration, but when her boat arrives with only her dead body on board, DI Mooney is left with a baffling mystery to solve. Meanwhile, Florence and Patrice look forward to their wedding, which is only a week away, but a huge strain is put on their relationship when the groom is drawn into the murder case as a former employer and long-time friend of the victim.
6
Beyond the Shining Sea - Part Two
Jermain Julien
Roger Enstone
14 February 2019

The team are left stunned by another murder connected to the killing of festival queen Tiana. But there is a new lead - a phone call relating to their initial suspect - so DI Jack and his officers travel over to nearby Rosalie Island, where the owner and employees of a lucrative investment company all fall under suspicion as they are questioned about the mysterious call. Meanwhile, with emotions running high, Ruby encourages her uncle, Commissioner Patterson, to show his emotional side for once.
7
Murder on the Airwaves
Richard Signy
Robert Thorogood
21 February 2019

The people of Saint Marie go into mourning when Dezzie Dixon, the island's favourite radio presenter, is murdered live on air and Jack must unravel a challenging mystery to find the culprit. However, his task is made all the more difficult when Detective Sergeant Madeleine Dumas from internal affairs arrives to assess working practices following the recent shooting, and proceeds to question the inspector's every move.
8
Murder Begins at Home
Richard Signy
James Hall
28 February 2019

Old mates Jay, Gerald, Adam and David arrive on Saint Marie ready for the holiday of a lifetime at the Crystal Bay Horse Ranch. The occasion soon turns sour when the island is shaken by a torrential storm, and ranch owner Hannah advises the men to wait it out in their tents. By morning, Jack thinks he has seen the worst of it, until he opens up the locked police station and finds the body of a man lying in the middle of the floor. It's Adam, with scratches on his arms and laceration marks around his neck.
Discussion
To improve this article, discuss it on the Talk page.
Notes
Community content is available under
CC-BY-SA
unless otherwise noted.