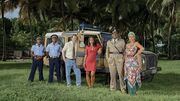 "

DI Jack Mooney investigates a range of complex and puzzling murders under a Caribbean sun.

"

―BBC
Series 7 of Death in Paradise was commissioned in February 2017 and first aired from 4 January 2018 to 22 February 2018 on BBC One, watched by an average of 7.72[1] / 8.34[2] million UK viewers.
Episodes
#
Title
Director
Writer
Air Date
1
Murder from Above
Jonathan Gershfield
Robert Thorogood
4 January 2018

DI Jack Mooney and the team are left puzzled when Diane Smith, fiancée of hotel billionaire Philip Marston, is found dead the day before her lavish wedding.

All evidence points towards suicide, but Jack is convinced there's more to this case than meets the eye and turns his attentions to her family to be. With the victim's room locked from the inside and all suspects in different locations around the hotel, how could any of them have committed murder?

Puzzled by a single painted nail on the victim's hand, Jack is determined to prove foul play, despite the Commissioner insisting on closing the case. With a distinct lack of physical evidence, the team have a tough task on their hands.

Meanwhile, Jack discovers a local island delicacy, while his daughter Siobhan has a tough decision to make. Elsewhere, Dwayne finds himself in hot water with former flame Audrey.

2
The Stakes are High
Stewart Svaasand
Jake Riddell
11 January 2018

The team enter the high-stakes world of international professional poker tournaments, when Bobby Rodrigues, the favourite to win, is poisoned mid-game.

As all fellow players are confined to their seats for the entire match, and no other individual allowed access to the stage during that time, suspicion soon falls upon each player. However with the entire audience watching intently, how could any of them have committed murder?

A novice to poker, Jack enlists the specialist help of Dwayne, who is more than happy to step up when Florence becomes injured. With each suspect skilfully trained in the art of deception, just how is Jack going to force them to reveal their hand?

Meanwhile, Florence struggles to obey doctors' orders to stay away from work and soon finds her own way to assist in the case. Elsewhere, Dwayne makes an interesting discovery whilst searching through a suspect's belongings.

3
Written in Murder
Jonathan Gershfield
Justin Young
18 January 2018

DI Jack Mooney and the team find themselves in the middle of a murder mystery when famous thriller author Frank O'Toole is found stabbed through the heart after taking an early morning swim in the ocean.

Having stayed at Frank's house the night of the murder, and Frank being discovered on the beach the next morning, suspicion soon falls upon Frank's wife, agent and research assistant Valerie. However, with eye witnesses confirming that Frank was swimming alone and all suspects claiming to be in bed, how could anyone have known where Frank was - and how did they get from the house to the sea without being detected?

Meanwhile, as the island prepares for Erzulie, the festival celebrating the Voodoo Goddess of love, Dwayne concentrates on finding a date. Will Dwayne finally meet his match when he sets his sights on Darlene? Elsewhere, Jack and Florence track down a lead on the murder case from oversees.

4
The Healer
Stewart Svaasand
Tom Higgins
25 January 2018

DI Mooney and the team find themselves embroiled in the mysterious world of faith healing, when loyal follower Fabienne dies on stage in the hands of renowned healer Steadman King.


Having travelled to get her sight restored, Fabienne's session takes a sinister turn when she is poisoned minutes before receiving the miracle cure. All evidence points to Steadman and his cup of holy water which Fabienne drank before her death. However, as the ceremony takes place on stage, how could she have been poisoned without anyone noticing?

As the team dig deeper into Fabienne's past, suspicion falls upon her nephew Dashel and Steadman's wife Amelia. However with each suspect having an alibi and no apparent motive, how could any of them be guilty of foul play?

Meanwhile, Pico the police dog joins the team on a week trial, putting JP through his paces, whilst Florence attempts to recreate some of Jack's home comforts. Elsewhere, Jack takes matters into his own hands when he conducts a late-night search of the victim's house.

5
Murder on the Day of the Dead
Ian Barnes
Robert Thorogood
1 February 2018

The island's Day Of The Dead celebrations are cut short when Finn Anderson receives an unexpected voicemail from his wife, Daisy - as she is being attacked.

When Daisy fails to arrive at the Saint Marie Yacht Club's charity auction and the voicemail is played to the police, DI Mooney and the team conduct a search party of the Yacht Club grounds.

Daisy is found with a fatal stab wound just meters away from the auction, and suspicion falls upon her only contacts on the island: her husband Finn, club secretary Charlotte and club chairman Hugh. With eye witnesses placing Charlotte and Hugh at the auction and Finn at the festival, how could any of them committed the crime?

A yellow butterfly found on the victim's clothing sparks Jack's curiosity and he calls upon Commissioner Selwyn's lepidopterology knowledge to shed light on the case.

Meanwhile, Jack is concerned for Harry the lizard's health when he refuses to eat his breakfast. Elsewhere, Dwayne gets a taste of family life when Darlene's niece, Elize comes to visit - and they soon strike up a bond which could prove helpful to the case.

6
Meditated in Murder
Ian Barnes
Damian Wayling
8 February 2018

A spiritual retreat takes a chilling turn when the leader and joint owner Daniel Friend is found strangled en route to the contemplation garden.

With all fellow members participating in a group meditation at the time of his death, DI Jack Mooney and the team find themselves confounded by this case.

Convinced that one of the retreat members is behind Daniel's murder, Jack is determined to prove foul play by finding the suspected murder weapon, the rope belt from one of the retreat robes. However, with the absence of the belt and each suspect providing an alibi for the other, how could any of them be behind it?

Meanwhile, Jack struggles to write the perfect speech to honour Selwyn at an upcoming award ceremony, whilst Florence brushes up on the art of shorthand. Elsewhere, JP contemplates the strength of mindfulness and positive thinking.

7
Dark Memories
Sarah Walker
James Hall
15 February 2018

Long-buried memories are dug up for JP when someone from his past is caught red-handed at a murder scene, and DI Mooney must unravel a complex mystery to find the truth.

When a disturbance is reported, JP and Dwayne are the first on the scene where they discover Eugene Jones dead on the floor with a fatal wound to the head. Interrupting the apparent assailant upon entering the house, JP and Dwayne make chase in a bid to capture the suspect with JP trying his best to tackle them on their escape. Unable to catch the perpetrator, the team are at a loss until JP announces that he knows exactly who the suspect is; his old classmate Cordell Thomas.

Before the team have a chance to regroup the next morning, Jack and Florence are stunned to find Cordell on the doorstep of the police station, ready to confess to Eugene's murder. However Jack is troubled by the discovery of a peanut found in the clutches of the victim's hand at the crime scene and is convinced that Cordell isn't telling the whole truth. With everything pointing towards a robbery gone wrong and Cordell in the cell, how could any evidence prove otherwise?

Meanwhile, Jack tries his hand at night fishing and JP struggles to overcome his past conflict with Cordell. Elsewhere, an unexpected visitor turns up on Darlene's doorstep looking for Dwayne.

8
Melodies of Murder
Sarah Walker
Will Fisher
22 February 2018

When Billy Springer, lead guitarist of a popular reggae band, is murdered, DI Mooney and his team must crack a cold case that has haunted the Commissioner for years, before they can arrest the killer.

After performing on stage as part of Leon And The Ragers 30-year reunion gig, Billy is found dead moments later in his dressing room.

With a gun in his hand and the door locked from the inside, all evidence points towards suicide. However the Commissioner received a message from Billy earlier that day saying that he had found evidence linked to his wife's murder - the case that the Commissioner was unable to solve 30 years earlier. Why would Billy kill himself when he had just unearthed proof leading to his wife's killer? And why is Jack so obsessed with a fork found at the scene of the crime?

Convinced that Billy was killed to conceal his wife's murderer, suspicion soon falls upon Billy's fellow band-mates and his son, Kai. With each of them denying the allegations and Billy's room being locked from the inside, how could any of them committed the crime?

Meanwhile, Jack finds himself once more sharing his shack with a member of the Myers family. But while the team try to help Dwayne come to terms with his dad's surprise visit to Saint Marie, is it too late for father and son to make amends?
External Links
Discussion
To improve this article, discuss it on the Talk page.
Notes
Community content is available under
CC-BY-SA
unless otherwise noted.