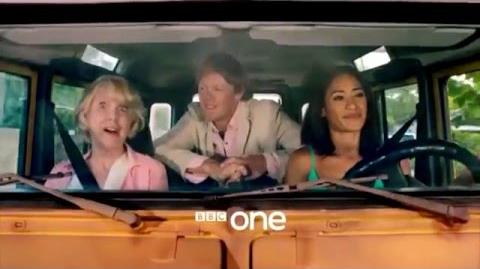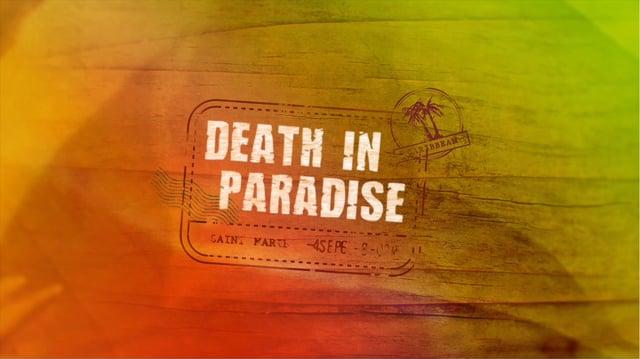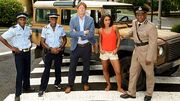 "

DI Goodman and his team tackle more tropical murder mysteries.

"

―BBC
Series 5 of Death in Paradise was commissioned in February 2015 and first aired from 7 January 2016 to 25 February 2016 on BBC One, watched by an average of 8.08[1] / 8.67[2] million UK viewers.
Episodes

#
Title
Director
Writer
Air Date
1
The Complex Murder
Edward Bennett
Robert Thorogood
7 January 2016

DI Humphrey Goodman and the team are left stumped in the first episode of the new series when millionaire environmentalist and scientist Dan Hagen is shot on his boat while out at sea.

The evidence seems to point to a robbery gone wrong, but with no other boats reported in the surrounding area, DI Goodman suspects foul play by one of Dan's crew. With the other four members of the group diving on the coral reef and in plain sight of one another at the time of the murder though, how could any of them have committed the crime?

The team soon realise that Dan's crew aren't as close-knit as they initially seem, with obvious friction between Dan's ex-girlfriend, Nicky, and beautiful new wife, Laura. Humphrey and Florence are also puzzled at the discovery of a mysterious toy soldier found next to the body. With everyone hiding a secret, will the gang be able to get to the bottom of how and why Dan was killed?

Meanwhile, the team are surprised at Humphrey's sudden desire to become a sailor – and concerned at the floating rust bucket of a boat he has bought himself. Is Humphrey really after a life on the ocean waves, or is a mid-life crisis a more likely explanation? Elsewhere, Florence surprises the team with her action hero credentials - and Officers Dwayne and JP bond over some unexpected fears.

2
One for the Road
Edward Bennett
Dan Muirden
14 January 2016

The island is rocked when the Governor of Saint Marie, Caroline Bamber, drops dead at her own leaving party with Commissioner Selwyn standing next to her. As the team try to discover how she has been poisoned without the Commissioner noticing any foul play, they enter the clandestine world of island politics, where nothing is as it seems.

As the team dig deeper into the Saint Marie's history, the battle over the infamous Spinner's Rock is soon brought to their attention. With blackmail, threats and corruption going on behind the Governor's doors, could the tension between the French and the British be the reason for her suspicious and unexpected death?

Meanwhile, Humphrey braves the world of online dating and sets up his first profile, under the guidance of ladies' man, Dwayne. When he discovers that there is someone with a 94 percent match, could this finally be the woman of Humphrey's dreams?

3
Posing in Murder
Audrey Cooke
Tom Higgins
21 January 2016

A fashion show on a beautiful beach takes a chilling turn when a young model, Zoe McKay, is strangled just moments after leaving the catwalk.

The backstage area was securely guarded at all times, meaning Zoe's killer must be one of her colleagues. But since all of the models and crew members seem to have a watertight alibi, it becomes clear that appearances aren't everything at this fashion show.

DI Humphrey Goodman and his team delve into the cut-throat world of modelling, uncovering buried secrets and possible motives. But with no witnesses or DNA evidence, the only clue is a single stocking found clasped in the victim's hand. What does it mean, and how was her killer able to strike without being seen?

Meanwhile, Florence tries her best to help Humphrey improve his social skills with the opposite sex, a task that proves just about as difficult as solving a murder. Elsewhere, JP recognises one of the models as his high school crush - but does she remember him?

4
A Personal Murder
Audrey Cooke
Emma Goodwin
28 January 2016

Events take an unnerving turn when, at the funeral of Dwayne's mentor and local barber Cedrik Verga, Dwayne receives a mysterious text from the deceased's phone that reads, "I was murdered". With the phone in Cedrik's coffin during the cremation, is this a prank in poor taste - or something more sinister?

Humphrey agrees to help Dwayne investigate, and when they visit Cedrik's house they find inconsistencies which rule out death from natural causes. As relationships are questioned, motives explored, and all possibilities considered, could the most loved man on the island have been a victim of murder? And how well does Dwayne really know his oldest friends?

In the meantime, Humphrey tries his best to prove to Florence that his culinary skills are good enough to captivate a woman's heart. The team all head to the beach shack for a typical English dinner of shepherd's pie - but can Humphrey remember the basics and wow his guests?

5
Lost Identity
Roger Simonsz
Robert Thorogood
4 February 2016

Humphrey is looking forward to a visit from his beloved Aunt Mary, the person who inspired his love of puzzle solving. But when Mary is the only witness to the untimely death of tourist John Green - who was thrown from his hotel room balcony during his first night on the island - she finds herself in the middle of a murder investigation.

With CCTV not revealing anything suspicious, the lack of evidence makes the case a tricky puzzle to solve - particularly as John had no contact with anyone between arriving on Saint Marie and getting to the hotel. As the team dig deeper, they discover that Neil Jenkins, a former convicted criminal, was at the hotel the day John was murdered: is this coincidence?

Meanwhile, JP takes relationship advice from Dwayne after confiding his feelings for Rosey, which leaves him more confused than ever. Luckily, Florence and Catherine are at hand to rescue JP from his girl trouble.

Humphrey is attacked at the murder scene and ends up in hospital, where he spends some quality time with his aunt - only to discover the sad secret she has been keeping from him.

6
Dishing Up Murder
Roger Simonsz
Dana Fainaru
11 February 2016

DI Goodman and the team are left clueless when famous chef Robert Holt is found fatally stabbed, the morning after the opening of his new restaurant. With all of his loved ones, including girlfriend Anouk and son Matt, at the event, Humphrey notes that his brother Gary was absent. Could he be behind the murder?

Humphrey and the team have a tough time ahead of them, as the body was stored in a freezer - meaning they can't identify the exact time of death. Puzzled by a left-handed kitchen knife and convinced the murderer is someone close to Robert, they soon discover that the chef didn't always see eye to eye with his kitchen crew and his hot-headed manner has left all of his staff with a motive. With everyone hiding a secret, will the team be able to find out who killed Robert and why?

Meanwhile, Dwayne may have met his match - in the shape of a troublesome, truanting young boy - and JP makes a life-changing decision.

7
The Blood Red Sea
Richard Signy
Will Fisher
18 February 2016

Whilst on a successful mission to unearth the legendary Saint Marie silver, a marine salvage teams' celebrations come to an abrupt halt when its Captain, Tosh Walker, is found dead on the beach with a stab wound to his chest. With the rest of the group seeming to have watertight alibis, the attention turns to rival treasure hunter Newton Farrell.

The investigation sees DI Humphrey Goodman and his team dive into the murky world of treasure hunting - to find that not everything is as it seems. With Catherine confirming Farrell's whereabouts at the bar at the time of the murder, and each of Tosh's companions - son Sam, wife Naomi and assistant Addison - providing an alibi for each another, will this case ever be solved?

Meanwhile, Dwayne is on Best Man duty as he organises the ultimate stag do for a terrified JP, whilst Florence is determined to find out what Humphrey got up to the night before his own wedding.

8
Flames of Love
Richard Signy
Matthew Barry
25 February 2016

Student backpacker Sian Evans is found dead in the showers of the hostel where she is staying. With a gun in her hand and her body slumped against the only door, all evidence points to a suicide. However, with her wash bag and toiletries laid out but her towel missing, is everything as it seems?

Convinced there's more to the case, DI Humphrey and the team turn to Sian's associates: boyfriend, Griff; hostel owner Astor, and fellow backpackers, Perrie and Leo. With everyone alone and lacking an alibi at the time of the murder, the team are left with little to go on.

Meanwhile, JP prepares for the biggest event of his life as his wedding day approaches. With his relationship advancing so fast will he get cold feet? Elsewhere, Florence helps Humphrey pursue his quest for love after he bumps into an old friend. Is romance finally on the cards for Humphrey?
External Links
Discussion
To improve this article, discuss it on the Talk page.
Notes
Community content is available under
CC-BY-SA
unless otherwise noted.