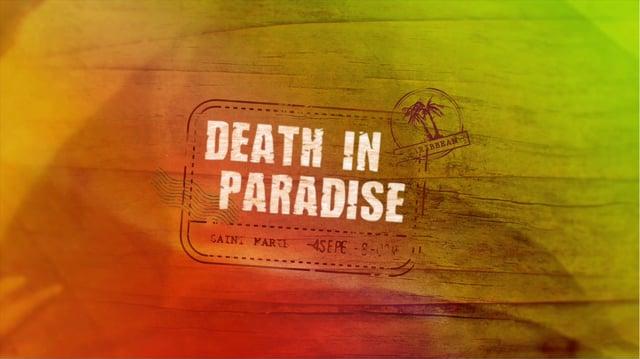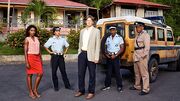 "

DI Goodman tackles more tropical murder mysteries.

"

―BBC
Series 4 of Death in Paradise was commissioned in February 2014 and first aired from 8 January 2015 to 26 February 2015 on BBC One, watched by an average of 8.61[1] / 9.03[2] million UK viewers.
Episodes
#
Title
Director
Writer
Air Date
1
Stab in the Dark
Richard Signy
Robert Thorogood
8 January 2015

Plantation owner and businessman, Elias Thomson, is brutally murdered during a group séance at his home. With the door to the room firmly closed, everyone in the room is a suspect, but how did the murderer go unnoticed when all participants – including Elias' children, Daniel and Lucy – were holding hands throughout the séance?

The family are convinced that the murder is the work of a ghost, Mama Beth, who is believed to haunt the plantation, but Humphrey and the team are determined to find a more rational solution. Will they be able to find a concrete motive to pin down the culprit?

Meanwhile, Officer Dwayne Myers is striving to cope as he is left holding the fort following the departure of Sergeant Fidel Best. However, Commissioner Selwyn Patterson is keen to step in and flex his investigative muscles, much to Dwayne's frustration!

Humphrey is also struggling as he tries to contain his growing feelings for DS Camille Bordey who, in turn, finds herself battling the dating scene thanks to her well-meaning mother. Will Camille realise that Mr. Right may be right in front of her?

2
Hidden Secrets
Richard Signy
Simon Winstone
15 January 2015

Surf school owner, Jake Peters, is mysteriously found shot dead in his workshop.

With Jake's chain and watch missing, on first inspection the scene appears to be a robbery gone wrong. However, with the door locked from the inside and no other way in, Humphrey believes that there is more to the case than meets the eye.

Fingers start to point at those staying at Sandy Cove surf school: its three pupils Jess Chambers, Steve Taylor and Charlie Beckett, who are each on the island with their own agenda. Humphrey and the team dive into the investigation and immerse themselves in the surfing world. However, with grieving wife, Katie Peters, and best friend, Karl Slater, also harbouring dark secrets, will the team be able to uncover the truth?

Meanwhile, Humphrey continues to struggle with his emotions for Camille and decides to take matters into his own hands when he is faced with competition for her affections in the form of her surfer ex-lover, Nicky. Will Humph manage to catch a wave?

3
Damned If You Do...
David O'Neill
Tom Higgins
22 January 2015

A death in the Saint Marie Heritage Society suggests that this cosy group could be less amicable than it seems. DI Goodman tries to stay focused on the job while wrestling with his feelings for Camille.
4
Until Death Do You Part
David O'Neill
Rebecca Wojciechowski
29 January 2015

Bride-to-be Jenny Burgess is found drowned in her hotel bath hours before she is due to leave for her wedding.

Having been on the island for only five days celebrating her hen do with her three bridesmaids, Betty, Ivy and Sal, Humphrey and the team have a small circle of potential killers.

However, with the three main suspects being Jenny's closest friends and no sign of a break-in, the investigation proves perplexing. Why would any of Jenny's friends want to kill her? It's soon revealed that each has a secret to hide, but will the team figure out who is to blame?

Meanwhile, following the shocking revelation that Camille has been offered a job in Paris, everyone has some difficult decisions to make. When the Commissioner leaves it up to Humphrey to release Camille from her position, will a smitten Humph be able to let Camille go? And with emotions running high, will Humphrey finally seize the chance to reveal how he feels?

5
Swimming in Murder
Paul Murphy
Ian Kershaw
5 February 2015

The team is introduced to the crazy world of rock and roll when the lead singer of a band is murdered on Saint Marie. Can DI Goodman keep control of the unruly suspects for long enough to solve the crime?
6
The Perfect Murder
Paul Murphy
Mark Brotherhood
12 February 2015

Professional volleyball player, Shelly Kennedy, is found dead in her car with a knife to her chest.

On the island to compete in the annual inter-island Beach Volleyball Championships with her team from rival island, Isla Jonas, competition has been fierce as they prepare to take on Saint Marie's team.

Shelly and her teammate Jasmine Laymon have history with Saint Marie rivals Maz Shipley, Alison Turner and their coach Aiden Parker, raising red flags for the Honoré Police team. Would one of them been willing to kill Shelly in order to win the competition?

However, when it's revealed that everyone who knew Shelly has an alibi, Humphrey and the team are faced with few suspects. With gambling and illegal romances going on behind closed doors though, will the detectives find the missing link to the crime?

Meanwhile, Dwayne and JP continue to strike up a bromance, with Dwayne teaching him the ropes in the field. As times goes on, will Dwayne realise that he is actually creating some younger competition for himself?

7
She Was Murdered Twice
Richard Signy
Dana Fainaru
19 February 2015

Annette Burgess, CEO of a boutique travel website, is murdered in her hotel room while on an outdoor team-building getaway with her colleagues.

With everyone in the small group of employees seeming to have no obvious alibis or motives, Humphrey and the team are forced to dig a little deeper.

However, it isn't long before the detectives discover that Annette had an affair with her sister's husband, Stuart Howe, and tensions were high with her assistant, Sandra Kendrick, who was filing a harassment case against Annette. If that wasn't enough, it's also soon revealed that the company's Senior Account Executive, Dominic Claydon, is the victim's long-lost son. The team realise that there are plenty of people who had an axe to grind with the fiery Annette. However, after a shock confession, is the case wrapped up as simple as that?

Meanwhile as Florence and Humphrey continue to get to grips with working alongside each other in the absence of Camille, will an unexpected call from home lead to trouble in paradise for Humphrey?

8
Unlike Father, Unlike Son
Richard Signy
Matthew Barry
26 February 2015

Murder suspect Jack Harmer is found shot dead whilst in police custody. With tight security in the prison cell, including three locked doors and Dwayne and JP on the scene, how did a killer manage to slip through undetected?

Faced with a seemingly unsolvable case, Humphrey and the team must find the invisible killer. With no shortage of suspects - including angry wife Mae Harmer and vengeful brother Paul Harmer - the team have their work cut out finding the evidence to place the suspects at the scene of the crime.

Meanwhile, Humphrey's father Martin Goodman pays an unexpected visit to the island to speak with his son. The hostile relationship between the two isn't helped when Martin attempts to get his son to return home to England. Will the two be able to put aside their differences and end the reunion happily in paradise?
External Links
Discussion
To improve this article, discuss it on the Talk page.
Notes
Community content is available under
CC-BY-SA
unless otherwise noted.