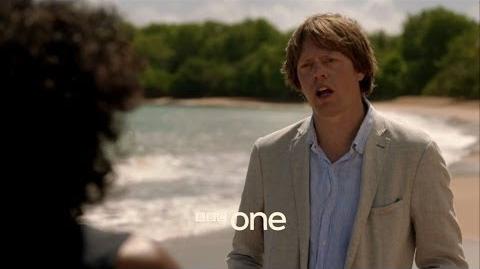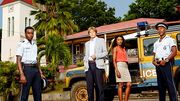 "

Detective Goodman takes over from Richard Poole in less than ideal circumstances.

"

―BBC
Series 3 of Death in Paradise was commissioned in February 2013 and first aired from 14 January 2014 to 4 March 2014 on BBC One, watched by an average of 8.46 million UK viewers.[1]
Episodes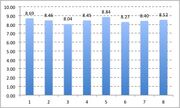 #
Title
Director
Writer
Air Date
1
Death of a Detective
Cilla Ware
Robert Thorogood
14 January 2014

DI Richard Poole is joined on the island by some of his old university friends who are there for a reunion. However, the party is brought to an abrupt halt when one of the group is brutally murdered with an ice pick. The case proves particularly tricky, leading to the arrival of new British detective, DI Humphrey Goodman, to help the team get to the bottom of the mysterious murder. With the crime scene a remote villa only accessible by car, all the attendees of the reunion are prime suspects. To further complicate matters, the murder appears to have been committed in plain sight of all of those at the party. Humphrey is increasingly baffled and, still not feeling part of the team yet, takes solace in knowing that at least his wife will soon be joining him on the island. If only he can just solve this case first and show his new team what a brilliant detective he is.
2
The Wrong Man
Cilla Ware
Daisy Coulam
21 January 2014

When a stand-in working on the set of a zombie film being shot on the island suddenly dies on set, Humphrey and the team are called to investigate the murder. The victim appears to have been poisoned. Having gained all the evidence, it all seems to point towards the idea that the film's lead actress, Lexi Cunningham, was actually the intended victim in a plan gone wrong. From here, the team quickly focus their investigation on three key suspects: film director Carl Collins, script writer Arnold Finch and on-set runner Susie Jenkins. With the three suspects in mind and still adjusting to his new tropical surroundings, Humphrey starts to discover that the world of filmmaking is not quite as glamorous as one might expect. The film set is teeming with ruthless ambition, creative jealousy and behind-the-scenes affairs. All three suspects have a motive.
3
An Artistic Murder
Dusan Lazaveric
Paul Logue
28 January 2014

DI Goodman and the team are called to investigate the death of an old school friend of Fidel's, Carlton Parish, who has been shot at his home. Last seen at an art viewing held at a gallery owned by connoisseur Leo Pascal, Carlton was in attendance with wealthy, older woman Dorothy Foster. Witnesses also claim to have seen Carlton having an altercation with Marc Campese, the owner of private member's club The Reef Club. With only a call from Carlton claiming that a woman was going to kill him to go on, Humphrey and the team start analysing their suspects. They soon discover that Carlton made his living as a male escort and as a result, has sparked motives in a number of disgruntled female exes, including the 'Dragon Lady' herself, Judge Ann Stone, and Marc Campese's wife, Lauren. With emotions running high, Fidel is finding it tough to investigate his old friend's murder, forcing him to confront some long-buried issues.
4
Ye of Little Faith
Dusan Lazaveric
Ian Kershaw
4 February 2014

DI Goodman and the team are called to a hotel to investigate the death of air stewardess Natasha Thiebert, who appears to have been poisoned during the crew's overnight stay on the island. With a lack of evidence as to how Natasha was killed, the team is left to question all of her colleagues, including suave flight attendant Adam Frost and gambling addict Paul Bevans. With so many suspects and so little to go on, the team finds it tricky to link a strong-enough motive to any of the potential culprits. Frustrated, Dwayne goes rogue to pursue his own line of enquiry and see if the answer lies further afield. As the investigation unfolds, the team soon discovers that Natasha's high-flying life was filled with love affairs, career jealously and extreme debt.
5
Political Suicide
Robert Quinn
Robert Thorogood
11 February 2014

Honoré Police Station's team is drawn into the world of political scandal when Saint Marie's Commerce Minister, Jacob Doran, is found shot dead in his home.

With his death coming shortly after news broke of the minister's disreputable affair with a colleague and a suicide note found at the scene, the case initially appears to be an open and shut suicide. However, after analysing the crime scene, Humphrey becomes convinced that the minister was actually murdered.

At the heart of the investigation are Jacob's betrayed wife, Charlotte, his son, Drew, and mistress, Lena. Could one of them have held a strong enough grudge to kill the political figure? As the case unfolds though, the team become more and more frustrated that the physical evidence suggests suicide rather than murder. Is it possible that Humphrey has got it wrong this time?

The case becomes more complicated when an additional suspect appears on the scene – Lena's Godfather, Marlon, who also turns out to be Camille's estranged father – and the suicide note is proven to be written by the victim. Will Camille let her blast from the past get in the way of her intuition? And who would murder a man who was already in the process of killing himself?

6
The Early Bird
Robert Quinn
JC Wilsher and Simon Winstone
18 February 2014

Tragedy strikes in the Saint Marie jungle when a group of birdwatchers discover one of their party murdered and DI Goodman and the team are called in to investigate.

Visiting the island to catch a glimpse of the famous Saint Marie Green Parrot, the group find fellow ornithologist Marc Talbot stabbed with his own knife.

Having been a keen 'twitcher' in his youth, Humphrey is fascinated by the case, but equally perplexed when it is revealed that all of the suspects were in sight of each other when the crime occurred.

Faced with a puzzling conundrum, the team are left asking how anyone had time to kill Marc in the few minutes between him leaving camp in plain sight of the party and being found murdered at the watch point. Desperate to find answers, Dwayne goes undercover to keep an eye on the key suspects, whilst Fidel finds himself battling through the undergrowth in the jungle to find the one missing piece of evidence. What reason could anyone have to kill a harmless birdwatcher?

As the team dig deeper, they discover evidence of long-standing rivalries, secret jealousies and romantic entanglements. Did rival birdwatcher, Alec, execute his revenge after years of teasing and bitter comments? Did Marc's wife, Gloria, conspire with lover, Matt, to get rid of her husband? Or has tour leader Captain Jack got something to hide?

7
The Man With the Golden Gun
Richard Signy
Jack Lothian
25 February 2014

DI Goodman and the team are called to Saint Marie's neighbour, Sebastien Island, when Alexander Jackson, the island's owner and mega-rich property developer, is shot dead at a family gathering.

With only one property on the island and access limited to one jetty via boat, the suspects are limited to just five people: Jackson's three children, housekeeper Rosie and PA Emily, who were all at the house at the time of the murder. However, with only one of Jackson's sons able to provide an alibi, everyone is in the frame.

To make matters more complicated, a hurricane is approaching Saint Marie, meaning that Humphrey and the team are left stranded on Sebastien Island until the storm passes. With phone lines down and no access to computers, the police are forced to rely on old-fashioned investigative techniques to try and work out who the killer is.

As the team dig deeper, it's clear that Jackson was a ruthless and complicated business man who all the suspects had a motive to murder. With candles lit, the team realise they are spending the night trapped in the house with a killer. Will Humphrey be able to solve this puzzling case before the murderer is given the chance to strike again?

8
Rue Morgue
Richard Signy
Robert Thorogood
4 March 2014

DI Goodman and the team are called in to investigate the suicide of retired surgeon, Emma Redding. An empty packet of sleeping pills have been found beside her and the room has been locked and bolted from the inside - it's an open and shut case.

However, everything is not as it seems as the team soon discover. With all of Emma's friends dismissing the idea of suicide, her dinner found unfinished and the fact she planned to attend a party later that night, the mounting evidence suggests she may have been poisoned. But who could poison a woman's food and get out of a door bolted from the inside?

The team's attention turns to Emma's friends: her romantic interest, Colin Campbell, retired solicitor Judith Musgrove and old friends from home, Jim and Pam Chandler. What reason could any of them have to want Emma dead?

Hitting a brick wall, the team starts investigating other avenues, but Humphrey is hit for six when a blast from his past arrives on the island. Will his distraction at this unexpected appearance interfere with him solving the case? And what will the arrival mean for Humphrey's future on Saint Marie?
External Links
Discussion
To improve this article, discuss it on the Talk page.
Notes
Community content is available under
CC-BY-SA
unless otherwise noted.