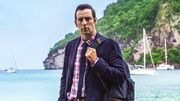 "

Detective Inspector Neville Parker and his team solve a series of murders on the island of Saint Marie.

"

―BBC
Series 10 of Death in Paradise was commissioned in February 2019 (together with series 9) and first aired from 7 January 2021 to 18 February 2021 on BBC One.
#
Title
Director
Writer
Air Date
1
x
Richard Signy
Justin Young
7 January 2021

When a TV news presenter is found strangled in her pool, Neville is sure that her popular co-host is guilty. Meanwhile, the team welcomes back an old colleague.
2
x
Richard Signy
Emma Goodwin
14 January 2021

The team are baffled when an archaeologist is poisoned during a dig but there is no evidence to prove how it was done. Meanwhile, Neville tests his skills in an island crab-cooking competition.
3
x
Chris Foggin
James Hall and Helen Black
21 January 2021

Neville is left perplexed when a lottery winner is found dead but her body then disappears. JP has an unruly new officer to train whilst preparing for the birth of his twins.
4
x
Chris Foggin
Dan Muirden
28 January 2021

Neville's attempts to embrace island life backfire when, during a game of beach volleyball, a sandfly bite lands him in hospital. His time on the ward takes a shocking turn when a nurse takes her own life during a night shift. Meanwhile, Marlon gives JP some unusual advice to help his twins sleep.
5
x
Jordan Hogg
James Hall
4 February 2021

A celebrated concert pianist murdered one night in his studio. Catherine's friendship with the victim's family puts her in unexpected danger.
6
x
Jordan Hogg
James Hall
5 February 2021

Neville must solve a mystery from the past that unlocks the truth of who murdered the concert pianist and why. Help is at hand, though, with the return of a former sergeant.
7
x
Toby Frow
Tom Nash
12 February 2021

A stag do goes awry when the host of their fishing trip is found harpooned on a beach the next morning.
8
x
Toby Frow
Julie Dixon
18 February 2021

A man confesses to murdering his boss despite being unable to remember what happened. Convinced that things aren't as simple as they seem, Neville determines to uncover the truth and unveil the real killer.
Discussion
To improve this article, discuss it on the Talk page.
Notes
Community content is available under
CC-BY-SA
unless otherwise noted.