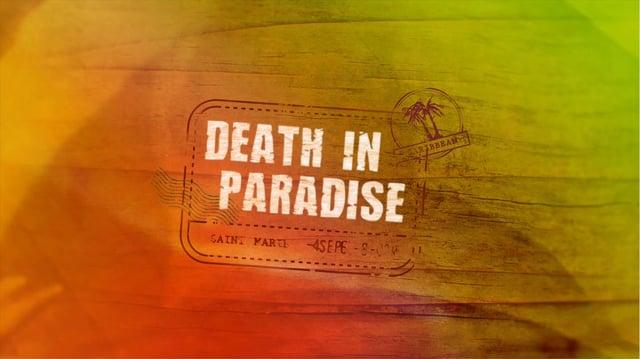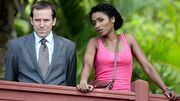 "

A misanthropic detective inspector is assigned to a Caribbean island against his will.

"

―BBC
"

Detective Inspector Richard Poole hates sun, sea and sand, so he is less than pleased when he finds himself assigned to the island paradise of Saint-Marie in the Caribbean.

"

―BBC
Series 1 of Death in Paradise was commissioned in 2010 and first aired from 25 October 2011 to 13 December 2011 on BBC One, watched by an average of 5.89 million UK viewers.[1]
Episodes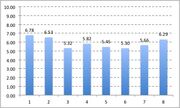 #
Title
Director
Writer
Air Date
1
Arriving in Paradise[2]
Charles Palmer
Robert Thorogood
25 October 2011

When a British policeman is found murdered in a locked room on the tiny paradise island of Sainte-Marie, Detective Inspector Richard Poole is sent to investigate. He's the perfect man to solve the case. Unfortunately for Richard, he hates sun, sea and sand...
2
Wicked Wedding Night
Roger Goldby
Robert Thorogood
1 November 2011

Richard is trying to acclimatise to his new surroundings. In desperate need of a decent cup of tea, he abandons his search when bride Lisa Moore is discovered murdered on her wedding day. Shot through the heart with a spear gun she was dead before her body hit the rocks beneath the balcony she fell from at the Bay Cove Hotel. Working their first case together, Camille and Richard are shown around the fifth-floor murder scene by dedicated butler William. They interview the devastated family: Mike Watson, Lisa's father, is broken by the death of his daughter; Diana Watson, Lisa's stepmother, tries to console him; while Sally Watson, Lisa's jealous stepsister angrily looks on, unable to resist revealing that Lisa wasn't Diana's daughter. She also informs them that they were all in their rooms when the murder happened, including Adam Fairs, the best man to the groom, and Darren Moore – who is understandably devastated by the loss of his new wife. With evidence that no one else came or left the fifth floor, one of them must be the killer.
3
Predicting Murder
Charles Palmer
Robert Thorogood
8 November 2011

Dwayne looks like he's seen a ghost when the team is called to a local school to deal with the murder of Angelique Morel, who was found dead on the floor of the headmaster's, Nicholas Dunham's class room. The previous night Angelique, known as a local voodoo priestess, predicted her own murder by a scarred man. Richard struggles to understand his team's belief that her prediction must have come true. Insisting it's nothing to do with voodoo, he thinks it's just a good old-fashioned murder by cyanide poisoning. A visit to Camile's Mother Catherine reveals that Father Charles Dean – now the school's priest and the man who found Angelique dead that morning - had an affair with Delilah Dunham, Nicholas Dunham's wife, years ago. When the affair was revealed Delilah disappeared and Angelique suspected foul play. In the end it takes a unique experiment involving a fish tank, super glue and a local cocktail to solve the case. But Richard isn't satisfied with solving just one case as he manages to finally explain the mystery surrounding Delilah's disappearance.
4
Missing a Body?
Roger Goldby
James Payne
15 November 2011

Megan Talbot confesses to shooting her husband, Lucas Talbot, dead but when Richard and the team go to find the body it's nowhere to be seen. Convinced there's more to the case than Megan is telling him, and without a body, Richard releases Megan – offering her a lift to her villa. At the villa Richard and Camille meet Lucas's friends Astrid Knight and her husband, Patrick Knight – and quickly discover there is no love lost between Megan and Astrid. However Richard insists nothing is definite until they find Lucas's body. Eventually Lucas's body is found by a local boat and brought back to the harbour – with two gunshot wounds to his head - just as Megan said in her statement; Richard reluctantly arrests Megan for murder. However – even with a full confession and body, something still doesn't sit right with Richard – he is desperate to understand how a button got lodged behind Lucas' watch, why the stopwatch on his watch was going and what was on the mobile phone found with his body. With the help of Camille and the team Richard finally sees what's been staring him in the face the whole time.
5
Spot the Difference
Alfred Lot
Harry Holmes
22 November 2011

A simple task of transporting a prisoner back to Saint-Marie on the local ferry ends in disaster when the prisoner, Leon Hamilton, is murdered en-route – it wouldn't be so bad for Richard if he hadn't been handcuffed to the victim when he was stabbed in the back. Commissioner Selwyn Patterson can't believe neither Richard nor the prison guard Vincent Carter saw anything. Richard tasks the team with looking into who exactly Leon Hamilton was – they discover he had many enemies as he defrauded many people out of money when he sold them a piece of Paradise Beach. With Leon having so many possible enemies Richard decides to start with the one investor who lost the most when Leon's business went bust – Gordon Foster. They discover Gordon lost more than money - his wife also left him but he does have an alibi for the time of the murder. Then there's murder mystery enthusiast, Suzie Park, who is a little too keen to be considered as a suspect for Richard's liking. Another complication is thrown Richard's way when Leon's wife, Ann Hamilton, books herself on to a flight immediately after having Leon cremated. Richard is convinced she has something to do with his murder but when they go to question her they make a startling discovery.
6
An Unhelpful Aid
Alfred Lot
Robert Thorogood
29 November 2011

With Richard struck down by a tropical disease and Camille in Paris, it is left to Dwayne and Fidel to solve the murder of a local diver, Benjamin Lightfoot. After a night of heavy drinking with his brother, Mark, Benjamin is seen by his boss Phil Owen and Dwayne going diving the following morning. When Benjamin is still not back after a couple of hours, Mark raises the alarm with Phil – and helped by Phil's wife, Alex Owen, they search the water. Alex finds Benjamin's dead body in unusually shallow waters. This isn't the only thing that doesn't make sense, as Dwayne notices odd markings on Benjamin's chest. When he then tests Benjamin's air gauge and discovers the tank is still full of air it's clear that it must be murder. Dwayne and Fidel begin their investigation but, as if their job wasn't tough enough with the crime scene the open sea, they then have to contend with holidaying British cop DS Angela Young, who Commissioner Selwyn Patterson reveals will be helping out whilst Richard and Camille are absent. Angela deduces Phil is the killer but Dwayne and Fidel aren't convinced and head to Richard's bungalow – only to discover they've both been giving him information about the case.
7
Music of Murder
Paul Harrison
Jack Lothian
6 December 2011

Carnival comes to Saint Marie but the high spirits don't last long as a team outing to see Dwayne's favourite band ends abruptly when the lead singer Solly is murdered. Richard and the team quickly establish Solly wasn't a popular member of the band, partly due to the rigmarole he insisted on going through before each performance – which included 15 minutes of 'alone time' in a coffin before it emerged on stage with him 'rising from the dead'. Richard and Camille are surprised to discover Solly's murdered body was arranged with his arms in a position of repose – an act of kindness, even love – though the insight doesn't go as far as to explain why the murder weapon was also left behind. With everybody close to Solly having an alibi at the time of his death – the window of opportunity narrowed to his 15 minutes of alone time during which the band, Eddie the bassist, Renward the keyboard player, Curtis the lead guitarist and Avita were enjoying backstage drinks – Richard focuses on the mystery girl who was seen on a few occasions with Solly before the concert and on the night of the murder itself.
8
Amongst Us
Paul Harrison
Robert Thorogood
13 December 2011

Following a fun night at Catherine's bar Dwayne meets a girl, Nadia Selim, and they immediately hit it off leading to coffee at her house. However, the next morning Dwayne's good mood is short lived when Richard reveals that his police warrant card was found at the scene of a murder crime – Nadia has been found dead with silver coins spilling out of her mouth. Nadia's neighbours didn't see anything suspicious - but Richard spots Georgie spying on them from her house. Georgie reveals Nadia asked her to look after a package the day she was murdered. The package contains a passport, money and a vet bill – a guaranteed way to make sure her dog was looked after, should anything happen to her. Checking the passport the team discover Nadia Selim's real name was in fact Rose Duchamp. Rose's file has been flagged on one of the intelligence lists, with the case officer, much to Richard's surprise, already on the island. Ricketts reveals Rose came to him with information about a money laundering ring – but before she could hand over the incriminating evidence she disappeared – until two days before when Ricketts got a call from her, leading to his arrival just before she was murdered. As Richard and the team struggle to solve the case, Richard is utterly delighted when Selwyn reveals his old job back at the Met is available if he wants it.
External Links
Discussion
To improve this article, discuss it on the Talk page.
Notes
↑

Referred to as "Death in Paradise" by some broadcasting stations.
Community content is available under
CC-BY-SA
unless otherwise noted.