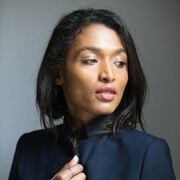 Sara Martins (born 19 August 1977) is a Portuguese actress of Cape-Verdean descent. She is known in France for her roles on television and in film and theatre.
She appeared as Detective Sergeant Camille Bordey in Death in Paradise. She left the show halfway through series 4 (January 2015).
Martins was born in Faro, Portugal. She moved to France to study at the French National Academy of Dramatic Arts]]. She is fluent in Portuguese, French and English.
Martins trained at the Conservatoire de Paris, France's main theatre school. She appeared in a play in London called Le Costume (The Suit) and in a French-language production of David Mamet's Race.
Martins' television debut was in 2001, in the French police series Police District. She appeared in the series Pigalle, la nuit as Fleur. While filming Death in Paradise, Martins worked on the French TV crime series Détectives as Nora Abadie.
Death in Paradise was Martins' debut in both comedy and on British television. Martins did have experience playing a cop. During a stunt for a first-series episode, Martins tore her achilles tendon. She has said that during the production of Death in Paradise she discovered that some of her mannerisms are distinctly French.
4:4 Until Death Do You Part, was Martins' last episode. Of her departure from the show, she is quoted as saying: "I've loved everything about the show. But the only way to grow in life is to take risks, even if it means losing something you love, or leaving a place that's comfortable".
External Links
Community content is available under
CC-BY-SA
unless otherwise noted.