Sergeant Jean-Pierre "JP" Hooper appears since 4:5 Swimming in Murder. He is played by Tobi Bakare.
JP joined the Honoré Police Station after Sergeant Florence Cassell became a Detective Sergeant. He is close friends and former partners with Officer Dwayne Myers.
Personality
JP young, eager, keen and desperate to prove himself the diligent and hard working police officer he's always dreamed he'd be.
Having more than proved himself an able officer in his first year with the Saint Marie team, JP's enthusiasm and thirst for learning on the job remains unquenchable. However, being a little older and a lot wiser than when he first left Police College and much better acquainted with the less than conventional policing style of his partner, Dwayne, he is a valued member of the team. He is logical and one of Dwayne's very many friends.
In 6:5 Man Overboard - Part One, he is left on Saint Marie while the others head to London. The Commissioner offers to carry out his appraisal, and JP is nervous, but by the end of 6:6 Man Overboard - Part Two he is relieved to receive his finished appraisal which he passed with flying colours.
Relationships
When JP first joins the police, it is obvious he holds a light for Florence. However, in the episode 5:3 Posing in Murder he meets up with Rosey Fabrice, one of the models at the show, who he previously went to school with. They hit it off together, at the end of episode 5:8 Flames of Love.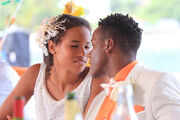 Married to the girl he had a crush on at school, JP is in the first happy throes of married life. That said, even the honeymoon period of a marriage can have its little problems that need ironing out. Their relationship is not always straightforward, and in episode 6:3 The Impossible Murder, JP is anxious because he and Rosey have had an argument. He ignores Dwayne's advice to apologise and buy flowers, and ends up spending the night sleeping at the police station. He eventually takes Dwayne's advice and he and Rosey make up.
Community content is available under
CC-BY-SA
unless otherwise noted.