Guadeloupe is a real life location.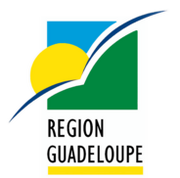 The Region of Guadeloupe (French: Région Guadeloupe) is an insular region of France located in the Leeward Islands, part of the Lesser Antilles in the Caribbean. Administratively, it is an overseas region consisting of a single overseas department. With a land area of 1,628 km2 (629 square miles) and an estimated population of 400,132 as of January 2015, it is the largest and most populous European Union territory in North America.
Guadeloupe's two main islands are Basse-Terre to the west and Grande-Terre to the east, which are separated by a narrow strait that is crossed with bridges. They are often referred to as a single island. The department also includes the smaller islands of Marie-Galante and La Désirade, and the Îles des Saintes.
Death in Paradise is filmed in Guadeloupe, mainly on Basse-Terre.
In the show, Guadeloupe are islands (sometimes referred to as a single island) near Saint Marie where the items are sent to the forensic laboratory. This means that the findings can sometimes be slow in coming through.
See also
External Links
Notes
Community content is available under
CC-BY-SA
unless otherwise noted.